How to make rosin with Auplex Rosin Press
"Rosin Tech" is a new form of home hash production which has taken Instagram by storm due to its simplicity and the quality of product it produces. Essentially, Rosin Tech invoves using a heat press to combine heat and pressure as an extraction method.
1. Break down the plant material and mold it into a small rectangle. This is done to reduce any plant particulates that may end up in your rosin. Also, make sure to use buds that are properly cured and not too wet or too dry.
2.If using a rosin bag, place the plant material into the filter. We recommend nylon food-grade screens or a mesh bag. (This step is optional for flower, but necessary for hash or dry sift.)
3.Use rosin press to extract,we have many different models for your choice. Our advice: Start with low temperatures and work your way up.
4.Place your bag or loose flower between two pieces of parchment paper. Use only as much material that will fit under the heating element. It is important that you leave a couple of inches of extra parchment paper on all sides to catch the rosin that is produced. You don't want rosin to spill over onto the plates.
5.Press the parchment paper with the plates for 4 to 30 seconds.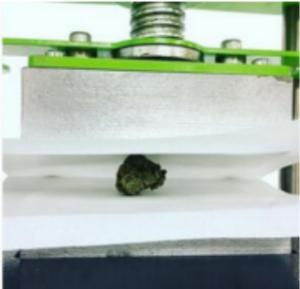 6.After removing the flower from the parchment paper, check the amount of oil.
7.Once you have pressed your product, use a dabber to collect the rosin.
8.Package or store the rosin for later use or turn it into rosin taffy by stretching, pulling, and twisting it with the dabber until it's a taffy-like consistency.
---
Post time: Jun-09-2020