Don't Buy A Heat Press Machine Until You Read This!
In this Buyers Guide, we'll cover the basics of heat press machines – the different types, features, and things you should consider when deciding which press is right for you.
Let's get to it!

What is a heat press machine?
A heat press machine (or simply "heat press") is used to apply a printed transfer, heat transfer vinyl, screen printed transfers, rhinestones and more onto substrates like T-shirts, mouse pads, flags, tote bags, mugs, caps, etc, via the heat transfer process.
Basic presses come with a simple dial thermostat and timer, while more robust presses have digital controls with memory functions for time, temp and pressure (to name just a few).
On top of the basic features options any press will have, some presses offer custom platens that may work better for your specific applications.
Another factor to consider is whether to get an air-automatic or auto-open press to save time and labor.
As you can see, there are lots of decisions to make when choosing your heat press and we aim to answer all these questions in this detailed Buyers Guide!
What's the best heat press for my needs?

What will you use it for?
A heat press (the heat transfer process) can be used with a variety of transfer applications including but not limited to:
Digital heat transfers (printed from an inkjet or color laser printer), Sublimation transfers, Heat transfer vinyl (aka HTV), Screen printed transfers such as plastisol, Rhinestones, Embroidery designs.
And you can heat transfer your designs, graphics, and materials onto a variety of substrates like:
T-shirts, Golf Shirts, Etc,Hoodies, Mouse pads, Tote bags, Mugs, Caps
Flat heat presses (the most common kind) are used to apply transfers to most any flat item, while caps will require a special "cap press" and mugs a "mug press."
So a flat press will most likely be your best option. One of the most popular combination presses, It comes with a 15"x 15" flat platen and you can purchase additional platens for caps, mugs, plates, and paper cubes.
What size press do I need?
While there are many press sizes to choose from starting at 9"x 12" for a hobby press, the most common sizes are 15"x 15" and 16"x 20". The 16"x 20" will accommodate almost any transfer you'll need apply. The 16″x 20″ size is an ideal size for applying transfers to shirts since shirts can accept a larger image (transfer size).
If you're on a budget, a 16"x 20" press is more comfortable to work on since most of the garment will fit on the lower platen table (without as much overhang) allowing you to place your transfer fast and accurately.
What type of heat press should I get?
Once you've figured out what you'll be using your heat press for and what size you'll need to create those products, it's time to consider the style of press that's right for your business.
Clamshell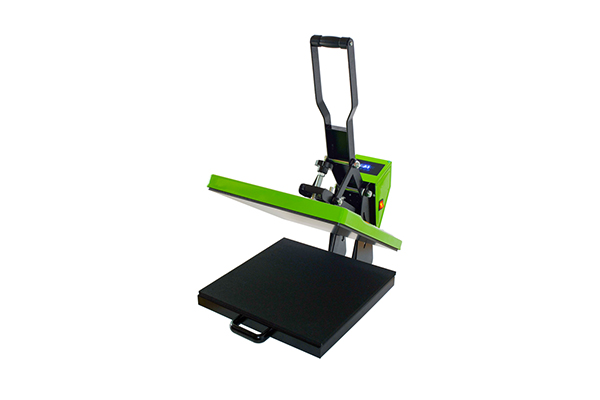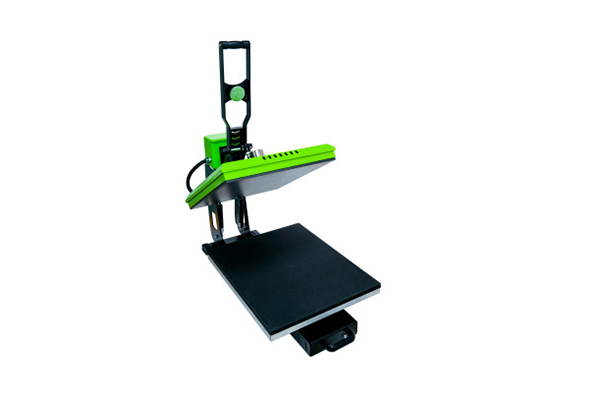 These are perhaps the most common type and are very beginner friendly as they're easy to operate and require a minimal amount of floor space.
Swing Away Heat Press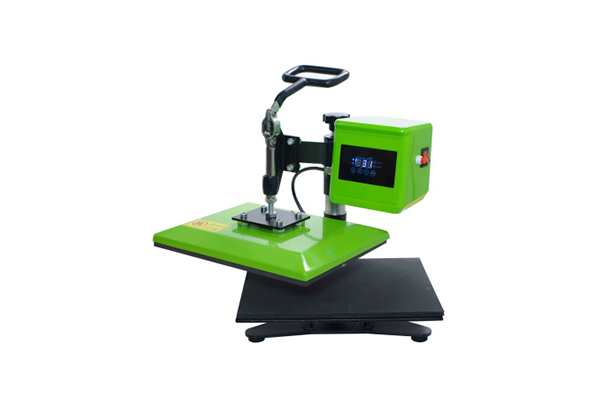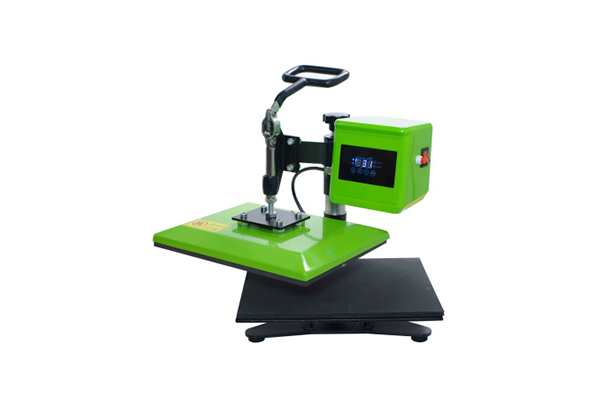 With these heat press machines, you can press thicker items, and the extra access to position your transfers on the lower platen with the upper platen swung away allows you to speed up production and reduce waste with faster, safer, and more accurate placement.
So which heat press should I choose as a beginner?
Once you've decided the type and size of heat press you need, there are a few other things you should consider when looking to buy a heat press. Our Buyers Guide will answer this and more!
Budget:  lower quality machines with basic features can be had for as little as $300, and if you're just getting started in the printing and transfer industry these can be a great option to minimize your investment while you're still testing and proving your business model.
If you're already in the industry, higher quality, more robust machines that last longer under continuous use and offer time-saving features are available for $500-2,000.
Quality: It's a common misconception that a heavier heat press is a more durable heat press. Likewise, the fewer welds the better, as each one creates a potential breaking point under stress. 
Also be sure to check for reviews to see what other customers have experienced when using the machine and we highly recommend buying a machine with a warranty ( we provide 5-year warranty on our machines.)
Customer Support: Does the company you're buying from have reliable customer service and tech support. Do they provide troubleshooting resources online and by phone? Are they quick to resolve customer issues?
These are all questions you should ask when buying your heat press.
Time: Digital timers are great for their accuracy, and some heat presses even automatically open when the timer is up. 
When it comes to auto-open presses there are two types: manual and air automatic.
Temperature: Temperature is obviously another essential heat pressing ingredient. Heating elements should be evenly spaced no more than 2" apart to ensure even heating.
Force and Pressure: Digital displays are great for getting accurate readings and over the center pressure adjustment provides an even pressure application.
How Can I Get My Heat Press Business Started?
While this Heat Press Buyers Guide was a great place to start. Now is a good time to call us with any questions you have!
If you're excited to get going with a new heat press machine you're already in the right place!
We offer presses that are best of breed in design, construction, and functionality – all at highly competitive prices with unmatched service and support.
Here are just a few reasons to buy your heat press from us:
Discount pricing and lift long tech support! Large stock ready to ship, typically same day! (M-F) , We offer only the most reliable, best built, leading brand machines!
We fully support and stand behind everything we sell – So Click, Call or Come in Today! www.auplexheatpress.com / www.heatpress.com.cn
---
Post time: Jun-08-2020